Every musical genre has it's folklore. From
Robert Johnson's
crossroads, to Jerry Lee Lewis'
burning piano
to
The Beatles' shenanigans at Buckingham Palace
and Van Halen's
brown M&Ms
. It seems that jazz has one of the earliest tales though -
the night they crowned Joe Oliver
as the "King" of jazz. So began jazz's royal lineage (after he had taken it from Freddie Keppard). The list goes from King Oliver to The King of Swing, Benny Goodman right through to The Baron, Charles Mingus.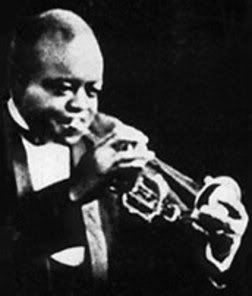 Joe King Oliver
's contribution to jazz cannot be overstated. He was after all the man who contacted a young Louis Armstrong and asked him to come to Chicago and join his band, The Creole Jazz Band. They ended up being among the first black artists to commit their tunes to 78rpm vinyl and in doing so signalled the shift away from the New Orleans rag influenced jazz to the swing era of the 1920s. On a stylistic note, Oliver was a pioneer in his use of mutes and cups when playing his cornet. Such was his influence that many years later rock guitarists would attempt to emulate his wah wah sound.
The tracks that I have chosen clearly demonstrate the direction that jazz would be taking, especially with Louis Armstrong in the thick of things. It sounds cliched but the music "swings" more and isn't as stiffling as the rag inspired tunes recorded in 1917. There are a lot more in the way of solos although my research has shown that the solos weren't improvised on the spot.
Canal Street Blues
Dipper Mouth Blues
Snake Rag
Farewell Blues
Chimes Blues
Doctor Jazz
Jazzin' Babies Blues
Again the method used to record these tracks was extremely primitive. The musicians would stand around a large horn and play their music directly onto the vinyl. However the music illustrates the seriousness with which the musicians regarded the music and in turn distancing themselves from the vaudevillian novelty of tracks like Livery Stable Blues (although the Creole Jazz Band used some novelty stuff in some of their tracks). Dipper Mouth Blues stands out for Oliver's three bar cornet solo (see the video attached)
It seems that things didn't stay on the up for the King though. He managed to turn down a regular gig at the Cotton Club in New York (although this paved the way for Duke Ellington to take it) and probably due to his sweet tooth a gum disease ravaged his mouth and he was unable to perform his solos when audiences later requested him.