Kid Ory
was one of the first exponents of jazz trombone. He was there to hear the original strains of jazz in New Orleans at the turn of the century and was even asked to perform with Buddy Bolden's band, however his parents forebade it. Later he formed one of the most popular bands in the 1910s. Louis Armstrong, Joe King Oliver, Sidney Bechet and Johnny Dodds would all grace his band at one time or another. He was also
part of the first
African American band from New Orleans to record jazz, when he and his band were touring in L.A., in the early twenties. He later performed with King Oliver's Syncopators and Jelly Roll Morton's Red Hot Pepper Band in the 20's. He was also involved with Louis Armstrong's Hot Five Band, which is largely regarded as some of the finest offerings of early jazz.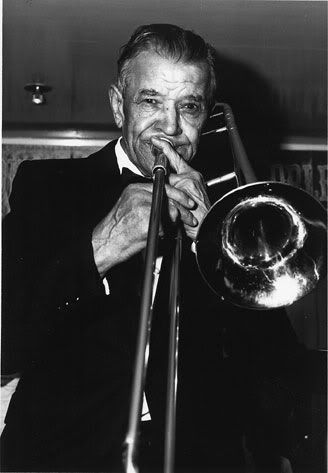 Unlike his contemporaries, Freddie Keppard, King Oliver and Jelly Roll Morton, Ory survived the Great Depression and was present for the Dixieland revival in the 1940s. As such, he left many recordings from this period so it's possible to hear one of the original New Orleans jazz men in recordings of much better quality than those of the 1920's.
Here's a great recording of Muskrat Ramble:
Here's another clip of Ory giving an interview in the 1950s, talking about his early days in New Orleans. Unfortunately I can't embed it.
http://www.youtube.com/watch?v=AIkkA85SpyE