By 1935, Swing was king. It was around this time right up until the end of WWII that jazz was (for the only time in its history) the pop music of the day. Sweet jazz standards were becoming old fashioned and the Depression ravaged country was crying out for the foot tapping tunes that were being developed in the all night bars of Kansas City. Of course the notions of swing and groove in jazz were not new. Louis Armstrong and Duke Ellington had been pioneers of this form of jazz since the early 1920's. However the USA was still a deeply segregated country and it took people like Benny Goodman to give jazz an "acceptable" white face – perhaps in much the same way that Elvis Presley and Bill Haley did for rock n roll twenty years later. Which is not to take away from the talents of these men, of course.
The sound of jazz was becoming a lot more sophisticated. The string rhythm section was being abandoned in favour of the more polished sound of walking bass and ride cymbal drums. The tenor sax and the piano were coming more to the fore. The heavy handed stride piano style was now out of vogue in favour of a more airy style – perhaps best demonstrated by Count Basie.
From New Jersey, he was there during the Harlem Renaissance days in the 1920's and was influenced by many of the famous acts of the time – especially piano players like Willie "The Lion" Smith and James P Johnson. He toured the country in the late 20's and hooked up with bassist Walter Page and vocalist Jimmy Rushing and became the pianist in Bennie Moten's band in Kansas City. The Count Basie Orchestra began to take shape around the mid 1930's with the valuable addition of tenor saxophonist, Lester Young. One late night improv session in Kansas City gave rise to his signature tune, One O'Clock Jump.
There is no doubt that Basie's sound was heavily blues based. The seeds of rock n roll were truly planted at the time his orchestra was becoming prominent in the late 1930's. His band were very talented individuals who made full use of the "head arrangement" style - from guitarist Freddie Greene and drummer Jo Jones to Sonny Payne and Roy Eldridge, later.
As a band leader, Basie's career spanned from the 1930's to the 1980's. He was associated with a veritable who's who of music in that time, from Duke Ellington to Ella Fitzgerald. His music was an obvious pre cursor for the Las Vegas Rat Pack sound that was to launch the careers of Frank Sinatra and Dean Martin. His music defines what was cool about pre war swing and jazz.
Here are some of Count Basie's albums to look out for. (Again this is a mere sample of the good stuff. Basie's recording career spanned many decades)
The Complete Atomic Basie (1958)
Count Basie At Newport (1957)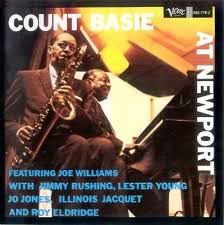 Chairman Of the Board (1959)
First Time! The Count Meets The Duke (1961)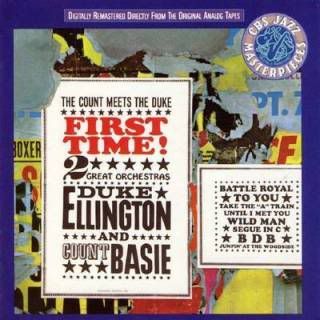 April In Paris (1956)