Fats Waller
was a name familiar to me. If you mentioned his name I would immediately recollect, perhaps the most famous, photo of him, the one where he is sitting at an upright piano, wearing a cockeyed hat and smoking a cigarette. I also knew that his most famous track was the classic,
Aint Misbehavin'.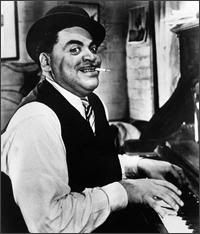 However I was unaware of the actual style of his playing. I assumed that he played an early form of boogie woogie but in fact his style is very much Harlem Stride. He was a student of James P Johnson, who we looked at in the previous post. I have heard it argued though that Waller took the stride piano form to a higher level. He was a formidable musician but in his favour was his immense showmanship. This is apparent in the songs and records that he left us. I love the humour that jump out of the songs. It sounds like he was having the time of his life (and he probably was considering that he was partial to having a bottle of gin on his piano).
His entire catalogue is worth checking out, but here are a few choice cuts.

Handful of Keys.
This song exemplifies Fats Waller's technique.

Honeysuckle Rose.
A great example of Fats' sublime piano playing infused with his tongue in cheek delivery.
The Joint Is Jumpin'.
It's Friday night in 1920's Harlem.