My posts on early jazz have tended to focus on cornet, trumpet and saxophone players, unsurprisingly as those were the dominant instruments of the time. That would change with the influence of
Eddie Lang
, the first jazz guitar virtuoso. We have come across Eddie Lang before as he was the guitar player in Bix Beiderbecke and Frankie Trumbauer's classic, "Singing The Blues". In fact Eddie was the quintessential guitar player of the time, the man that anyone of note wanted to play in their records.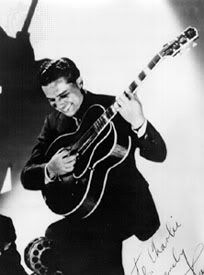 His duets with violinist
Joe Venuti
would set the stage for the famous Hot Club collaboration of Django Reinhardt and Stephane Grapelli in the 1930's. Here's a great example of this, "Wild Cat".
Lang was the house guitarist for the famous Okeh records label in New York and as such worked with many famous names including Bix Beiderbecke, Louis Armstrong and Bing Crosby. Due to the racial segregation of the time he used a pseudonym for his works with that other famous guitarist of the time, Lonnie Johnson. His choice of Blind Willie Dunn seems, retrospectively first class. Here he is with Johnson on "Blue Room", a very bluesy number that Lang has no problem with, keeping up with Johnson's 12 string. The result is utterly sublime.
Lang also managed to find time to work with the legendary King Oliver around 1927. The recordings known as
Blind Willie Dunn and his Gin Bottle Four
sees Oliver as a sideman rather than the bandleader. Here's "Blue Blood Blues",
When Eddie's career began, it was the banjo that was the instrument of choice for many. This was primarily due to its sound being able to cut through the brass instruments on those early acoustic recordings. However the development of electric recording techniques after 1925 would change things immensely as a microphone could now be placed closer to the guitar and individual strings could be heard clearly. Very simple in terms of today's technology but pretty earth shattering for the development of the guitar in popular music. As such the function of the guitar changed dramatically in the jazz band set up.
As a guitar player myself it has been interesting to research Eddie Lang's career and to view his place in the pantheon of early guitar trailblazers. My focus when learning the guitar was to listen to players like BB King and Robert Johnson. I knew the names of Django Reinhardt and Charlie Christian based on how they influenced my early lead guitar heroes, Scotty Moore and Chuck Berry. My ignorance of Lang has been glaring and it is a shame. The influence over subsequent guitar players is clear to see, as his stylng and phrasing would become commonplace jazz staples. A virtuoso indeed.