Look up the words "sophistication", "class" or "elegance" and you will see this man's name mentioned. A giant of the jazz world, I was of course aware of him, but again woefully ignorant and underexposed to his music. I think in part because of the vast amount of recordings that he made in a career that spanned 50 years. A simple blog entry from me, entitled "Duke Ellington", will not come close to even scratching the surface of the legacy this man has left us. 50 years of endeavour will probably take as long to listen to and appreciate. For the purposes of this entry I will attempt to look at his early career and how he came to be of such stature in the jazz world.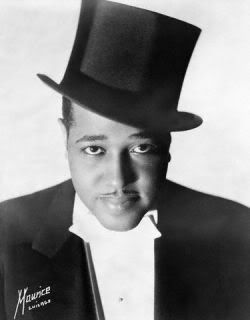 A band leader, composer, arranger and entertainer, Duke Ellington's career spans from the early jazz years of the 1920's to the 1970's. His early influences were ragtime and classical music. He began his career playing at well to do society parties in his native Washington DC - not anything near to jazz. This changed however when he moved to New York in the early 1920's and became involved in the Harlem movement. A small fish in a big pond it seems, as he and his band struggled to make ends meet. He was however, crucially, exposed to the developments of stride piano at the time. He soaked up the music of James P Johnson, Fats Waller and Willie The Lion Smith and started to write his own music, his debut being "Soda Fountain Rag" (unfortunately I can't locate it for this post). Eventually he became the band leader for
The Washingtonians
and began a stint at The Kentucky Club in New York City.
It was at this time that he began his first colloborations with trumpeter,
Bubber Miley.
Miley was heavily influenced by the New Orleans sound of Louis Armstrong and Joe "King" Oliver, who he had seen play in Chicago in the early 20's. As I mentioned in an earlier entry, Oliver was a pioneer in developing different sounds for trumpet playing, particularly the mute. Bubber Miley was to expand this technique further with a plunger mute and is credited with popularsing the growl or the "jungle sound" that is associated with Ellington's early recordings.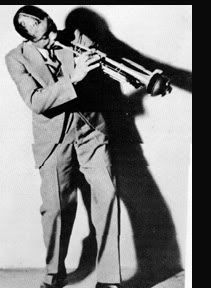 Here is the song
East St Louis Toodle-oo
, a great example of this style.
Ellington developed this style further by making compositions specifically designed to be played by the soloists in his orchestra. Here's
The Mooche
with Bubber Miley at his best.
Here is
Black And Tan Fantasy
This is a good demonstration of an Ellington/Miley composition that begins slow and in a minor key that develops a faster tempo and to a major key change and then back and forth (with Chopin's funeral march thrown in at the end for good measure!)
The big break for Ellington and his band came when they landed a gig at the famous
Cotton Club
in Harlem (which Joe King Oliver had famously turned down). They played there from 1927 to 1932 and even though it was a whites only club they had national exposure as the shows were sydndicated and broadcast over the radio. The legend of how Duke Ellington's Orchestra managed to get the gig tells a lot about the period and the kind of people associated with the famous speakeasies of the time. Duke had a contract with a club in Philadelphia that prevented him from taking the Cotton Club opening. With the help of his agent Irving Mills, who shall we say was "connected" with the right people, he was released from the contract after the club in Philadelphia received a telegram from the Cotton Club owners saying, "Be big or be dead". An offer they couldn't refuse!